Window Shades
Window shades today come in a wide variety of colors and styles, in beautiful fabrics, woods, and solar materials.
Roller shades, like the distinctive ones shown on the right in a Dakota Saddle finish, are an important decorating element in the modern home. Roller shades are available with a number of beautiful trims and pulls.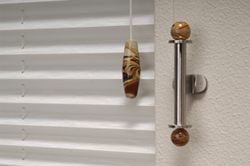 Pleated (cellular) shades offer a wide range of fabrics and can be fashioned to suit nearly every decorating need, from Roman shades to arch and skylight shades.
Coordinating accessories such as the cleat shown on the left provide an exciting decorative accent.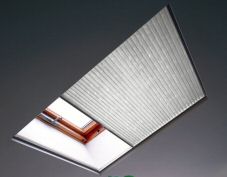 Skylights bring much-needed light into rooms but also can fade furniture and carpets. Light-filtering or room-darkening shades that can be used horizontally, vertically, or at an angle can preserve your furnishings investment.
Solar shades are an increasingly popular choice, as they maintain the view from your windows but provide protection for your home's interior from the sun's glare and UV rays. They can also help reduce cooling costs during the hot months of summer.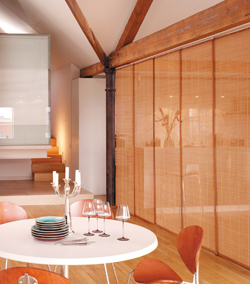 Sliding panel shades can be used to cover large areas, such as French doors, and can also be used as room dividers. Sliding panels come in a variety of materials including teak, shown here.
Insulating shades offer a stylish answer to the problem of heat escaping from your home during the winter. With today's soaring energy costs, insulating shades are a wise investment in controlling your heating bill while providing a beautiful accent for your windows.
Please stop by our showroom at 123 Nashua Rd., Londonderry, NH to see the many options available for all your window shade needs!