Ready-Made Curtains
In the past, ready-made curtains were limited to a small number of mass-market choices. The industry has changed over the last 25 years, and today's consumer has a dazzling array of rich colors, fabrics, and textures to choose from. Please view the gallery below to see samples (place your mouse over the thumbnail to view a larger image).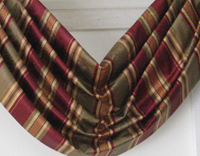 The ready-made curtain industry now incorporates exotic as well as "tried-and-true" fabrics into current designs. Today's consumer has an array of luxurious fabrics such as silk, linen, and cotton toile to choose from. Ready-made curtains of today closely resembly their custom-made counterparts of just a few years ago.
Please stop by and visit our showroom at 123 Nashua Rd. in Londonderry, New Hampshire, or call us at (603) 434-6820.