Draperies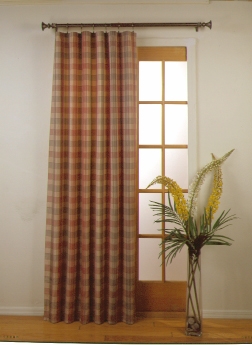 The right window treatments can transform a room from bland to spectacular. Today's pinch-pleat, ring top, and tab top draperies come in a sensational mix of fabrics, textures, and colors. It is possible to achieve in a few days what used to take weeks, waiting for custom window treatments. Coordinating pillows and throws augment the effect and create a signature living space.
Do you have a room with cathedral ceilings and large windows to cover? Striking patterns help bring the room into a sense of proportion. Perhaps your decorating challenge is a small bedroom or breakfast nook, where clean and bright colors open up the area and impart a sense of sunlight and space.
You may wish to create a place to escape from the stress of everyday living.The right pinch-pleated draperies are an important design accent and can help bring a sense of tranquility to your home.
To view a sample of the fabrics we offer, place your mouse over the small thumbnails below and a larger image will appear on the right.