Drapery Hardware
Fresh designs and innovative materials have transformed today's drapery hardware from nondescript to an important and decorative accessory in window treatments. From drapery rods, end caps, and finials to holdbacks, rings, and other decorative accessories, Walls To Windows can accommodate your most challenging window treatment needs. Please click here to view samples of decorative drapery hardware.
Drapery harware today incorporates brushed brass, pewter, wood, glass and other decorative materials. Finials and tiebacks complete the desired look. Elegant styles and innovative designs offer the utmost in decorating flexibility. Holdbacks offer a unique way to accentuate your draperies and come in an exciting variety of unique designs.
Walls To Windows is pleased to offer drapery hardware from quality manufacturers such as Kirsch. Shown above is the Burnished Brass Crackled Glass finial from Kirsch's Wrought Iron collection. Shown below is the Crossbase Cannonball Finial from Kirsch's Regency line of drapery hardware.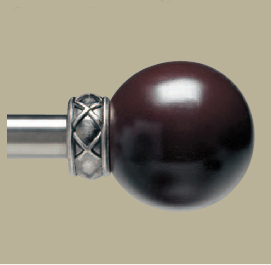 .
Medallions are a wonderful way to dress a window without using a traditional pole or rod. Offered in a variety of shapes and styles, medallions can be used to create a graceful drapery treatment. They are especially useful in places where traditional drapery rods and finials won't work, such as in a dormer window.
Please roll your mouse over any of the thumbnail images below to view a larger image on the right.
Finials